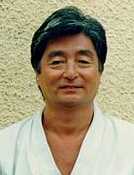 Yamada Yoshimitsu, 8th Dan, was born in february 17th, 1938, in Tokyo, Japan. He has studied at Aoyama Gakuin University. In 1955 entered at Hombu Dojo as a Uchideshi (internal student) under the thaught of master Morihei Ueshiba and continues to studie under this guide for more than 10 years.
In 1964 he travel to de United States of America and found the New York Aikikai, who has contributed much to bring about the present growth and popularity that Aikido has enjoyed since then.
Sensei Yamada has devoted himself to the dissemination of Aikido thoughout the world with great success and his teaching demonstration attracted a great deal of attention and favorable comments.
At present is Chairman of the USA Aikido Federation, and President of the Latin American Aikido Federation, organization with over 400 dojos in South America and Caribean, such as Argentina, Brasil, Bolivia, Colombia, Costa Rica, Curazao, Ecuador, Panama, Peru, Puerto Rico, Uruguay, and Venezuela.